Agriculture Financial Services (AFSC) provides Alberta's farmers and agribusinesses with loans, crop insurance and farm income disaster assistance.
We've been partners in the ag industry for over 80 years and we are working alongside producers to build a strong, growing and diverse industry.
We'll find the way forward together
AFSC staff know first-hand the challenges and rewards of agriculture
At AFSC, our people are proud to support Alberta farmers. Many of us are farmers too and we understand the late nights and early mornings spent in the fields and barns throughout the province.
Meet the AFSC team
At AFSC, we're proud of the work we do to help build a strong, growing and diversified agriculture and agri-food industry in Alberta.  Many AFSC team members are also producers and know first-hand the challenges and rewards Alberta producers face.
Each month, we feature a member of the team in AFSC's newsletter, Field Notes. Meet Sarah, a Client Service Representative from our Athabasca  Branch Office.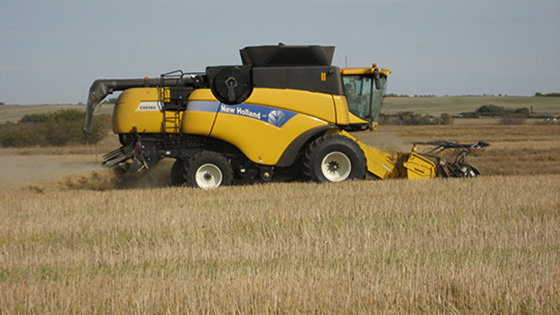 Nola, Change Management Professional, Lacombe Central Office
Years at AFSC – I've been with AFSC for 20 years. In that time, I have been in many roles, including working in a branch office, being part of the client call centre, working in the processing and verification area, being part of a regional lending office, and program and system readiness. These roles have provided me with a wide and varied perspective of AFSC and how we all fit together to engage our clients. The varied roles have come with many opportunities to learn about different perspectives and also provide knowledge of what farm life is about.

Why did you pursue a career in agriculture? I didn't really pursue a career in agriculture. I grew up in agriculture. My family have always farmed, so my roots have grown there too. When I first came to work for AFSC at the Red Deer Branch Office, I thought I knew everything about crop insurance, and it would be great to be in a job that was close to my personal interests and knowledge and fit with my other job of farming.

I soon learned that we live in a very diverse province. What one area does is not always the same as another area, and those areas could be just 10 miles apart. I had assumed people knew what we do as a farmer. One size does not fit all. What an eye opener and constant growth experience to be applying my little bit of farm knowledge to programs that we need as farmers to keep moving and growing in the future.

Are you involved in agriculture beyond your work at AFSC? My husband and I live and farm 2,000 acres on his family's third-generation farm. His grandfather came from China as a 12-year boy and worked his way across BC into Alberta on the railroad. When he got to Alberta, he eventually settled on the land in the Haynes area and learned to farm. It started with a few acres as a mixed farm operation and has now grown to strictly grain production. Our family has farmed this land now for 60 + years and support each other in the decisions that all farmers have to make not only for the current year, but also for the next at the same time. Crop rotations, inputs for this season with consideration for the next year's crop rotation, seeding, spraying, storm watching, harvesting, and the worst job – rock picking.

Why do you enjoy working in agriculture? I enjoy working in agriculture as the learning never stops. There is always innovation, being able to try new ideas and even old ideas that have become new again. Watching the crops grow and produce, and even though it can seem like it never ends, there is always a new beginning and as the saying goes – there is always next year.

Are you involved in any community initiatives or groups? When my kids were at home, I was very involved with their 4-H multi club and school activities.  Right now, I am just busy keeping up with grandkids.
To meet more members of AFSC team, please see the Meet the AFSC team page. To sign up for our newsletter or other AFSC publications, please see the Sign up for AFSC Communications page.
Our Promise
AFSC promises to work ceaselessly to understand your work, challenges, and values, and to earn your trust through honest conversations. We commit to providing solutions that help your business succeed.