Starting in early September, producers with wildlife damage can use AFSC Connect to report their wildlife damage online. Producers can access AFSC Connect at any time, from anywhere to report wildlife damage. Once a report is submitted, a case number is assigned and provided in a confirmation email.
Producers with wildlife damage should report their damage a minimum of three days (and up to 10 days) before they plan to harvest the effected acres. To report Wildlife Damage, simply log into AFSC Connect and provide the relevant damage information.
Producers who do not have an AFSC Connect account will need to set one up. To set up an account, go to  the Login page, click Login to AFSC Connect, and look for an option to create an account. A step-by-step guide, Create or Update your AFSC Connect account, can be found on the AFSC Connect Help Resources page.
Producers will need to:
Provide basic information including name and email address
Create a username and password
Once the registration process is complete, you will receive an email titled Confirm Your Email Address. Click on the link in the email to complete the activation process. If you need assistance, please call AFSC's Client Service Centre at 1.877.899.2372 or use our online chat.
Completing a Report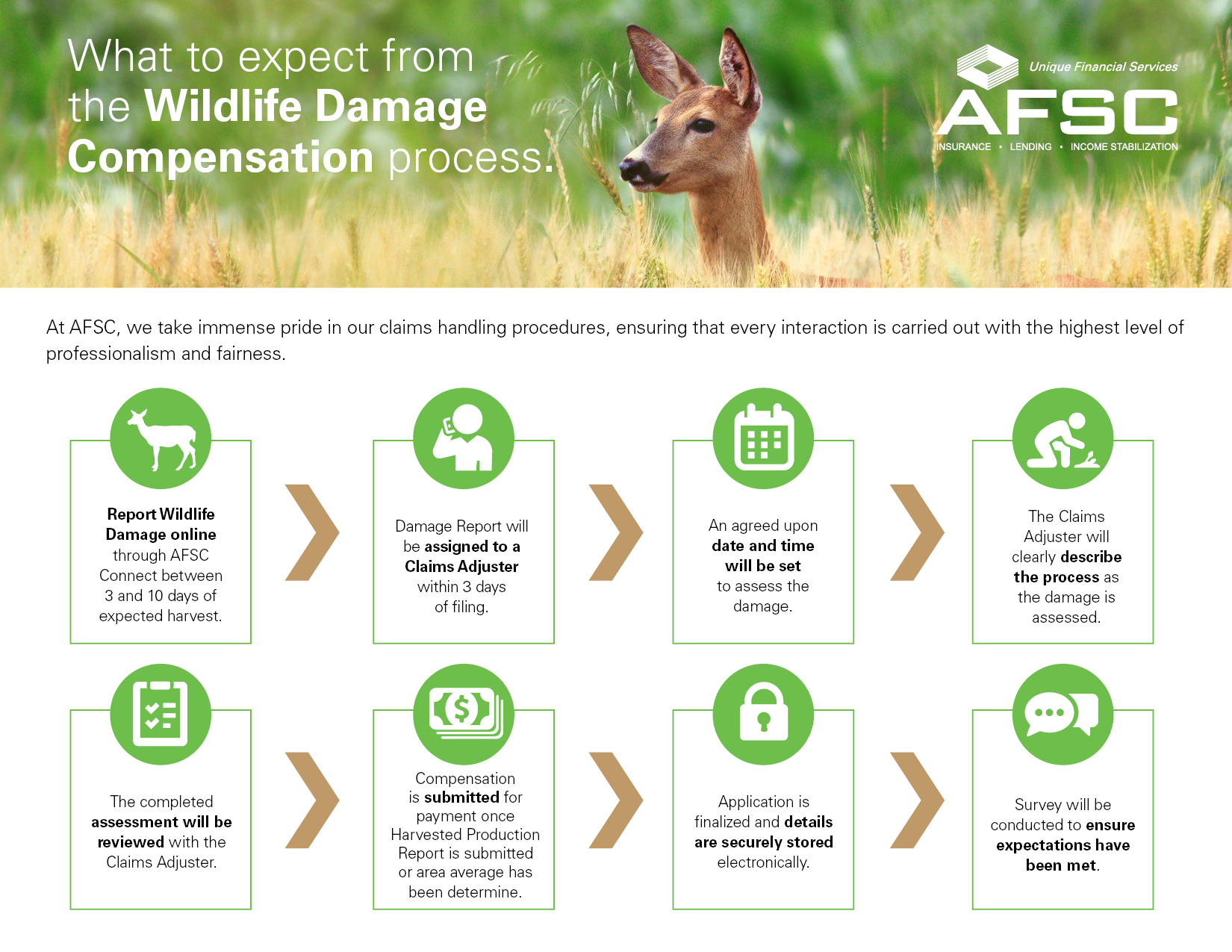 The Wildlife Damage Compensation Program compensates producers for wildlife damage to eligible unharvested crops. Producers wishing to participate in the program are not required to have insurance to apply. More information on the program is available on the Wildlife Damage Compensation Program page or the Frequently Asked Questions page.
If you would like additional information, please use Live Chat on our website or AFSC Connect, call our Client Service Centre at 1.877.899.2372 or contact your branch office.