It is an exciting time in agriculture as producers work to feed a growing world while balancing the need to protect the planet's climate. Innovation and advancements are occurring with new farming techniques and technologies entering the industry.
One of those techniques is aeroponics, the process of growing plants without soil. Instead, the plants grow in the air or a mist environment. Producers, including several in Alberta, have combined aeroponics with vertical farming, a method of farming that uses shelves or rafts of plants stacked atop of each other, to develop a new style of produce farm.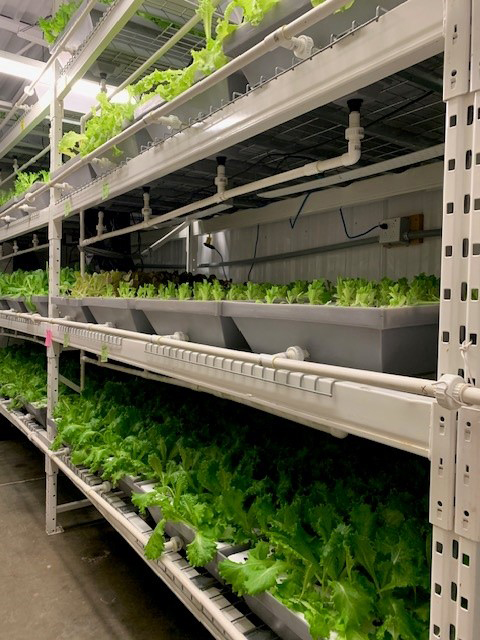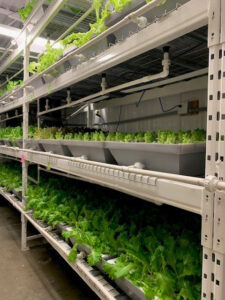 West Grow Farms Inc., located in Edmonton, is one of those farms. As an indoor vertical farm, it grows several varieties of lettuce year-round in a controlled environment. Its products can be found in Safeway and Sobeys stores in Edmonton, Spruce Grove, Stony Plain and St. Albert as well as at Amaranth Foods in St. Albert.
The benefits of vertical farming are many, explained West Grow Farm's Ann Philpott. Philpott, managing partner of West Grow, was one of the recipients of AFSC's 2023 Women in Ag award for her support of women in agriculture.
"(Vertical farming) significantly reduces the amount of land space and water used compared to traditional farming methods," said Philpott. "As we are not subjected to normal environmental variations, we can grow all year round. It also eliminates the need for chemicals and pesticides."
Additionally, West Grow Farms uses a closed-loop growing system where they reuse any water not immediately needed by the plants. According to their website, WestGrowFarms.com, this means they use approximately 95 per cent less water than a conventional farm, with a 142 gram produce package using only 1.46 litres of water from seed to harvest.
Getting started
West Grow Farms was established in 2016 and is entirely staffed by women. For the first three years, the focus was on building, testing and crop research and the first store sales took place in March 2019.
"We saw the need for quality, year-round produce … free from chemicals and contaminations," said Philpott.
"The crop yield is nutritionally better and faster growing. No chemicals, pesticides or soil are used so the product is clean and ready to eat. As a result, it has a very long shelf life."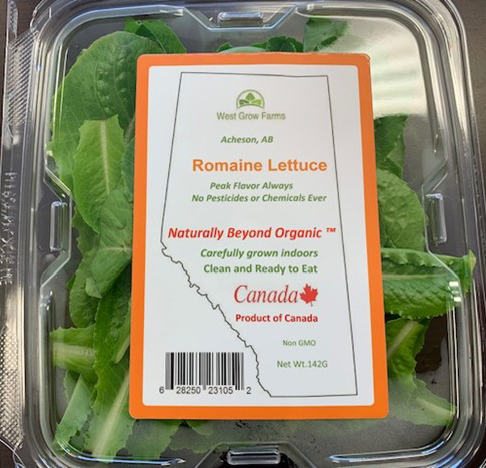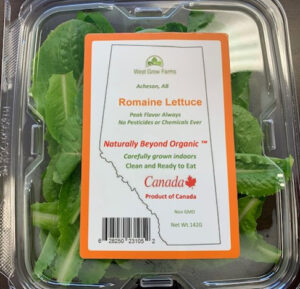 The produce is also grown close to its end consumers, giving them access to the freshest possible product when compared to other lettuces which may travel thousands of kilometres before reaching a plate.
"We have a very hands-on relationship with our customers and deliver direct from farm to store so the product is always fresh."
Over the years, West Grow Farms has streamlined its crop production, so they only produce crops with the best yield and that are the most desired by their customers. Today, their products include green leaf lettuce, mixed lettuce which includes red/green leaf, open head, and red/ green romaine lettuce, and green and red romaine lettuce.
Building for the future
Demand for their products is strong, and a couple of expansion projects are underway this year. Philpott said they are planning to expand by 150 per cent by the end of August, with another 100 per cent expansion by the end of 2023.
In addition to building a thriving business, Philpott is also working to nurture and develop women in agriculture. Philpott said that as more and more industries are recognizing that women are resilient, motivated and intelligent, we will see women's strengths highlighted and celebrated.
"As women, our ability to ask for guidance and lift each other up is what I believe will lead to a balanced agriculture workforce over time," said Philpott. "This is what I encourage from our 100 per cent female staff.
"Strong women surrounded by strong women will always be an asset to any industry … including something new and innovative like controlled environment agriculture."