Seeing, learning, connecting: AFSC 2019 Board tour – Central region
For 81 years AFSC has served Albertans — giving producers peace of mind and working with agricultural producers, agribusinesses, and rural businesses to support and advance agricultural development, create new and innovative opportunities for businesses, and improve the quality of life for all Albertans. Keeping in touch with our partners and clients is paramount to meeting their changing and evolving needs.
As in past summers, AFSC's Board of Directors and Executive Team set out to learn about and connect with several unique agricultural partners in central Alberta. This year's tour included stops at two farms, two value-added businesses, and a food processing facility — and highlighted AFSC's strong connections with a wide variety of Alberta producers. Seeing the outcomes of AFSC products and services — from Value Added processes to Young Farmer loans and crop insurance — reinforced the key role that AFSC plays in meeting the expanding needs of Albertans in the agriculture and agri-food industry.
Rig Hand Craft Distillery, Nisku
The first stop on the tour was in Nisku at Rig Hand Craft Distillery, which opened its doors in 2015. Owner Geoff Stewart's unique approach offers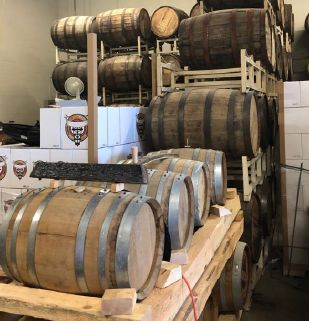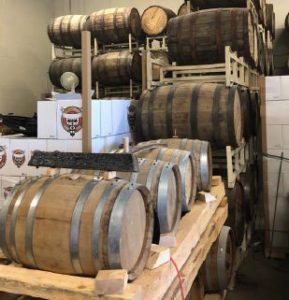 Albertans locally sourced spirits that pay tribute to the rich history of both agriculture and resource development in Alberta. Rig Hand now offers over 40 products, focused on vodka, gin, rum, and recently, beer, and samples were on the menu for the evening.
To Geoff, it's all about local — from the nearby sourcing of grain and potatoes, to his distinctive Albertan bottle and product names that reflect local flavour, including the uniquely Canadian "Double Double" coffee cream liquor. Even the leftover tailings (spent grain) are purposeful and used to grow mushrooms at Family Fungi, just a few blocks away. Along the way, AFSC has been proud to provide financing to meet Rig Hand's needs as they build on their success and continue to grow and expand their business.
And there's more —
Owner Geoff designed the unique Rig Hand bottles
The one-of-a-kind "oil look" comes from dipping the lids in black wax
Rig Hand cans or bottles 1,500 units per week
Bottling, labelling — essentially everything — is done on site, by hand
Gin is made with vodka, and then further distilled with juniper berries and other botanicals, herbs, spices, and flavours
Product is aged in American white oak barrels – used once with bourbon
Leduc Food Processing Centre
The next stop on the tour was a visit to the Leduc Food Processing Centre (LFPC), the largest of its kind in North America, and home to 43 staff, including scientists,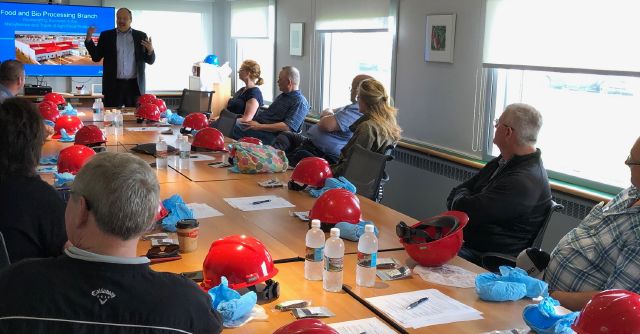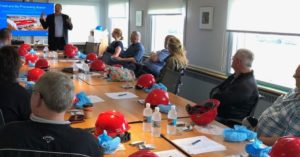 technologists, engineers, maintenance, and management and administration. Growing the value-added agricultural industry is complex, and the Leduc Centre offers support for everything from product development and testing to retail and export. After an insightful overview of the LFPC from Ken Gossen, Executive Director, Food and Bio Processing with Agriculture and Forestry, the group toured the research and development facility and the agri-value processing business incubator spaces, and enjoyed delightful samples, including locally made black licorice and a fababean "eatmore" bar.
As the tour progressed, it became clear that the unique facilities offered here serve to enable the growth and expansion of the food and beverage industry in today's highly competitive domestic and global markets. Lisa Sadownik, Assistant Deputy Minister responsible for Food and Value Added Processing, acknowledged AFSC for their key role in supporting and expanding the value-added sector.
And there's more —
LFPC was built in 1984 with funding from the Heritage Savings Trust Fund
The Centre allows companies to produce products for sale, and helps them to determine market demand
Ballpark client costs at the incubator are $1,200 per day
The average estimated cost to launch a product is $100,000 per SKU (grocery store code)
The spin off from LFPC is approximately three to five businesses per year – as they establish themselves with their own facilities, etc.
Alberta is well positioned to benefit from the plant based protein trend (i.e.: Beyond Meat)
Boender Grain Farms, Leduc County
From Leduc, the next stop on the tour was southeast of Edmonton, to meet with Colin and Karalynn Boender, owners of Boender Grain Farms. Although their family homestead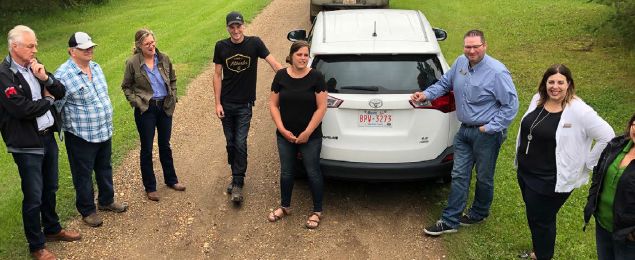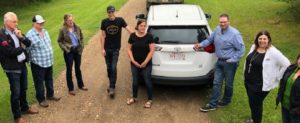 is located close to New Sarepta, the Boenders are young grain farmers who have expanded their land base and successfully grown their family farming operation, with AFSC as their lending partner. Starting in 2012, the Boenders focused on building strong relationships as a key factor toward their goal of increasing the percentage of the land that they own, versus rent. Along their journey, AFSC crop insurance, Hail Endorsement and Spring Price Endorsement have helped them manage the risks of their growing farming operation.
Alberta farmers, like the Boenders, are longstanding contributors to Alberta's economic growth, who understand that stewardship and relationship are key components of their operations and way of life.
And there's more —
As community-minded people, each year Colin, Karalynn, and their three kids grow a pumpkin patch, and take donations to give to the Canada Food Grains project
The AFSC Leduc branch participated last year by distributing pumpkins from their office and collecting donations
As they rent land close to the city, the Boenders write a regular newsletter to their landowners to provide updates and information about their operation
Family Fungi Ltd.
Family Fungi Ltd. in Nisku was the site of the fourth stop on the tour, where owners Carleton and Rachel Gruger offer an innovative approach to growing mushrooms in a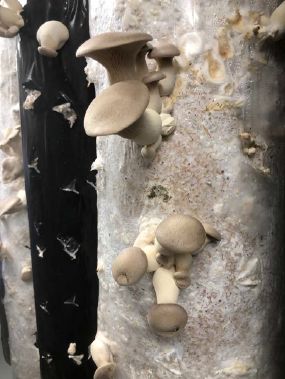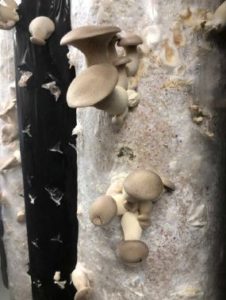 climate controlled, clean and chemical free environment. Rachel shared expert information about how they fill hanging bags with hemp and grain to grow a variety of mushrooms. The interconnectedness of small businesses was evident here — as Family Fungi is the benefactor of a portion of unusable grain by-product from their neighbors at Rig Hand Craft Distillery. Here, the spent grain functions as a protein boost and nitrogen source for their mushroom growth.
To appreciate the intricacies of mushroom growing processes, the group toured through the rooms where mushroom growth begins in liquid sugar, before transferring to a bag of grain to grow the mycelium root system. Since 2017, the Grugers have advanced their processes through research and trial and error — and AFSC has been alongside, providing financing to allow for their continued expansion and growing customer needs.
And there's more —
Family Fungi grows five varieties at a time; and 30 in total, including medicinal varieties
Their mushrooms are not grown in manure; they use hemp fiber
The production facility has 13 identical pods; all are climate controlled
During peak harvest, there are approximately 70-140 pounds of mushrooms per pod, per day
Their mushrooms are currently sold at farmers markets—as the owners look at expansion opportunities with grocers, such as the Italian Centre (Edmonton) and Sobeys
Lewis Farms Ltd.
This year's tour wrapped up with a visit to Lewis Farms Ltd., a fourth generation progressive cattle and farming operation, where diverse crop rotations are used to drive the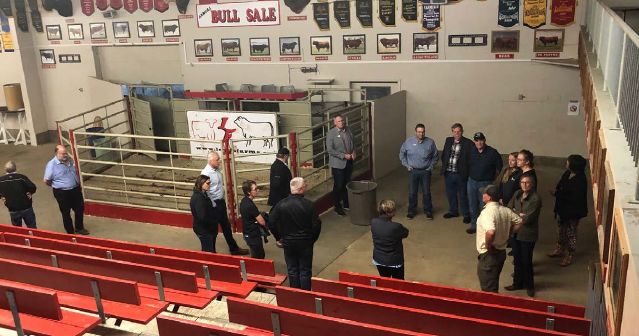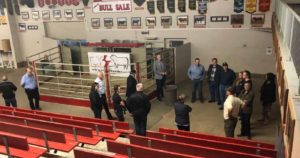 best value from the land. Over the past 70 years, Lewis farms has become a strong and growing force within the Simmental breed. Hosts Tyler and Kyle shared key insights on cattle genetics and marketing, while touring the group through the site of their yearly fall bull sale displaying a multitude of awards and banners. Quality genetics is the foundation of their operation and Lewis Farm's breeding practices are focused on generating highly marketable beef cattle.
The Board also had the opportunity to learn about seed potato production, specifically, Russet Burbank seed potatoes, used for french fries and potato chips. AFSC hail insurance helps the Lewis family manage the risk of Alberta's often inclement weather conditions. This year, wet conditions led to the use of a helicopter to spray crops. Blight and aphids are a concern, as they are a vector for viruses.
And there's more —
Lewis Farms has two locations, in Stony Plain and Sangudo
With a large family and staff, this family farming operation grows 400 acres of seed potatoes, 3,000 acres of grain and run 1,000 purebred Simmental and Angus cows
Potato harvest begins September 1 and must be finished in October, before temperatures become too cold. All potatoes are stored on site in massive bins, until they are moved in the fall