Farmers contribute to agricultural sustainability – by plastic recycling
Grain bags, twine, silage plastic, bale wrap – all of these contribute to an estimated 7,044 and 11,384 metric tonnes of ag plastic generated by Alberta farms each year.
Over the years, much of this ag plastic was addressed on-farm or disposed of in landfills. However, times are changing, and more and more ag plastic is being recycled through participating ag retailers, municipalities and government programs—and some is even finding new life as industrial and consumer products.
"Farmers who recycle ag plastics are adding to their farm sustainability and the stewarding of their land for future generations," said Davin Johnson, the Alberta program adviser with Cleanfarms. "Recycling ag plastic contributes to cleaner farms and farm communities, while recovering resource materials to be used again, contributing to a circular economy and a better environment."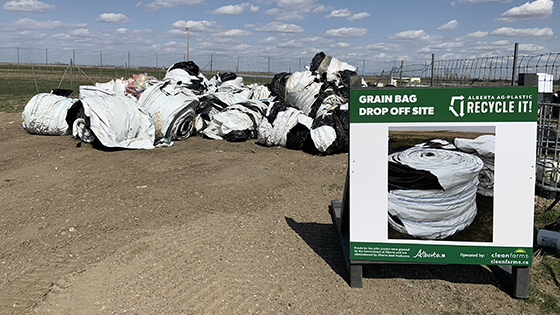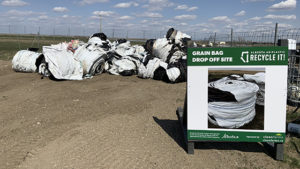 In Alberta, producers can recycle grain bags and plastic twine through Cleanfarm's Alberta Ag-Plastic's Recycle It! pilot project. Cleanfarms, Canada's agricultural stewardship organization, operates the project, while the multi-stakeholder Agricultural Plastics Recycling Group leads it. Funds were granted by the Alberta government and are administered by Alberta Beef Producers.
"Producers in Alberta are keen to be able to recycle grain bags and twine. We know from studies that 92 per cent of Alberta producers (growing crops or livestock) would be very likely to somewhat likely to participate in a recycling program for grain bags if a collection site was in their area," said Johnson, adding that 86 per cent of producers indicated they would participate in twine recycling if it was locally available.
"Every year, as more producers become aware of the program, collection volumes increase."
Today – there are 28 collection sites throughout Alberta associated with the Alberta Ag-Plastic's Recycle It! project. To be selected, sites must meet basic requirements for the safe handling and storage of material and possess previous experience in managing ag plastics for recycling. A complete list with directions, collection style and site contact details is found at https://cleanfarms.ca/alberta-ag-plastic-recycle-it-program-details/#collection-sites
Prepping bags and twine for recycling
How can grain bags be recycled? For this pilot project, grain bags must be mechanically rolled or baled for collection. Some sites do have a compactor and can accept unrolled grain bags, and Johnson recommends producers contact their collection sites for further information. Twine must be clean, dry and in a recycling bag. Net wrap/netting, bale/silage wrap, nylon rope and fiber/sisel twine are not part of the pilot project.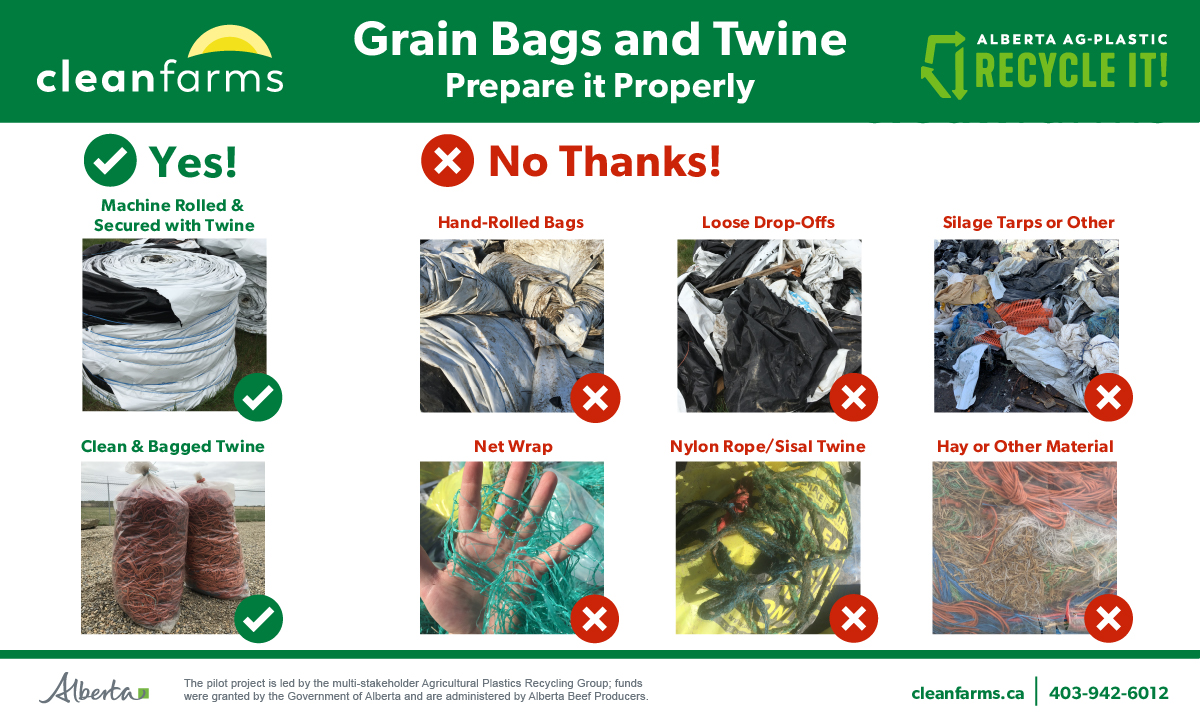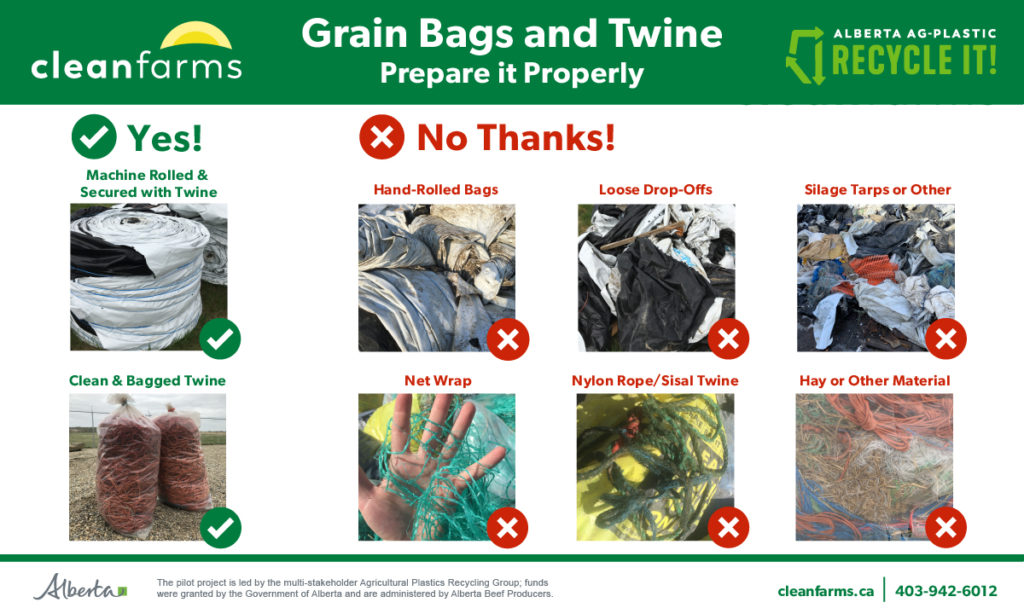 What happens to the grain bags? After collection, the bags and twine are shipped to recycling plants in Alberta and the United States for re-processing. Grain bags are converted to plastic pellets, which are then used to produce a variety of products such as industrial garbage bags and plastic lumber. Johnson said research is underway to see if these pellets can be used in the manufacturing of new grain bags. Plastic twine is also recycled into plastics pellets; those pellets are used to produce things like plant pots, car parts and plastic lumber.
"The goal of the pilot (project) is to test logistics and to assess costs and resources for the implementation of a permanent program including collecting, managing, and recycling materials," explained Johnson, adding that it is too early to know what the outcome of the project will be. "We are mid-pilot with a great deal of data yet to come that will inform next steps."
If you'd like to know more about the Alberta Ag-Plastics Recycle It pilot project, please see https://cleanfarms.ca/alberta-ag-plastic-recycle-it-program-details/. For information on other recycling collections through Cleanfarms, please see https://cleanfarms.ca/programs-at-a-glance/ab-programs-events/