This harvest season the Canadian Agriculture Safety Association (CASA) is reminding producers of the dangers of moving grain and why it is important to BeGrainSafe and follow safe grain handling practices
It takes mere seconds to become engulfed in grain, and far too often grain entrapment leads to serious injury or death.
"When grain is in motion, it acts like quicksand," explained Robin Anderson, CASA communications coordinator. "It takes no time to be trapped and once a person is trapped in grain to just their knees, it becomes impossible to self-rescue.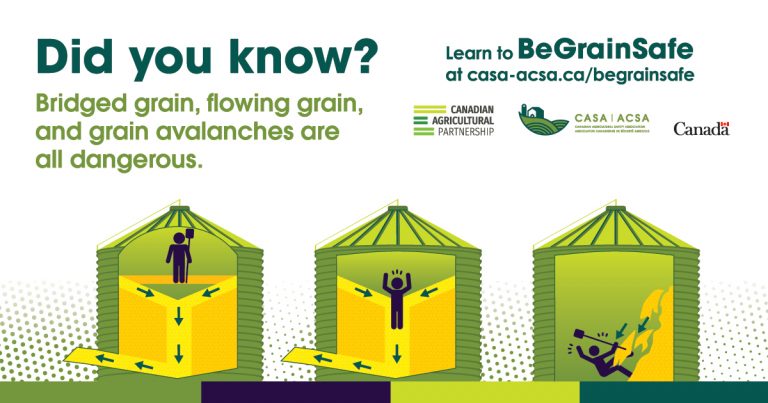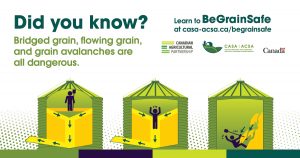 "Grain yields and technology mean that more bushels of grain are moving faster than ever before, so this increases the likelihood of coming into a scenario where grain entrapment is possible."
CASA has been working to raise awareness, educate and train people about the dangers associated with grain through its grain safety program, BeGrainSafe, since 2017. One of the key BeGrainSafe resources is a mobile training and demonstration unit that allows firefighters to experience practical, hands-on grain rescue training.
"Firefighters are trained to safely extract a person entrapped in grain using the BeGrainSafe mobile training and demonstration unit," said Anderson. "This trailer is at the heart of the program, giving firefighters the experience of an actual entrapment under controlled circumstances."
This year CASA, in partnership with Agriculture Financial Services Corporation (AFSC), provided funding to two rural Alberta fire departments for the purchase of specialized equipment used in grain rescue. The equipment, in conjunction with CASA's grain rescue training, helps ensure departments are ready should the need arise.
John McBain, Cypress County Fire Emergency Services deputy chief, said they are grateful for the grain rescue training and the equipment, although they hope they never need to use it. Cypress County Fire Emergency Services covers 13,000 square kilometres and has nine stations, located in Dunmore, Irvine, Hilda, Schuler, Seven Persons, Walsh, Redcliff (Box Springs) as well as Cypress Hills Provincial Park Elkwater and the Onefour area.
"Prior to having this equipment, it's been several years already, but we have had grain deaths within our municipality," said McBain. "In fact, in one of our neighbouring RMs (rural municipality) in Saskatchewan, they had – I think it was a grandfather and his grandson – perish a few years back in a grain accident.
"We never know when that need is going to arise but having the equipment here is important due to the amount of agriculture in our area.
"We're really grateful for the donation of the equipment and the training and hopefully we never have to use it."
Safe grain handling on the farm 
The BeGrainSafe program also includes training for producers and their families, including the free, online course Introduction to Grain Handling and Storage Hazards. This course focuses on the potential hazards that may be found in and around on-farm grain handling and storage facilities.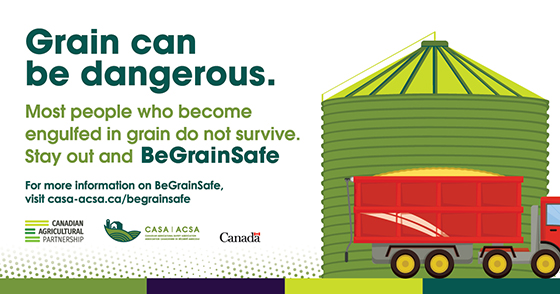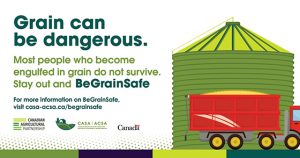 "The best advice is to stay out of grain altogether," said Anderson. "This includes grain trucks, grain bins, and grain piles.
"Work to keep grain in good condition, keep children and other unauthorized people away from grain hazards, always have a plan for entering a bin, never work alone and develop an emergency response plan. 
The BeGrainSafe Week webpage has several practical resources including toolbox talks and a grain bin assessment chart and other safety information to help everyone BeGrainSafe.
Supporting grain safety
AFSC is proud to be a sponsor of the BeGrainSafe program in Alberta. The partnership between AFSC and CASA was announced August 1.
"Certain risks are inherent in farming and grain entrapment is a major one," said Darryl Kay, AFSC's Chief Executive Officer. "While farmers take steps every day to ensure their safety, sometimes things go wrong. When that happens, it is important that there are trained personnel who know what to do."
"The BeGrainSafe program helps ensure that farmers, their families, and others in the ag industry are aware of the dangers of moving grain and know what to do in the case of an emergency. The program also helps ensure firefighters have the knowledge and training to execute a rescue if necessary."