Each summer Agriculture Financial Services Corporation (AFSC) welcomes a number of summer students in a variety of roles. These students learn firsthand about AFSC, the agriculture industry, and the wide variety of jobs available in our industry.  
This year, 15 summer students have joined AFSC in positions throughout the organization, from Client Services, Insurance, Digital Services, Lending and more. We asked four summer students to reflect on their time at AFSC so far.
Here's what they had to say.
Ping, Digital Services
My name is Ping, and I am studying Digital Media and IT-Computer Software Development at Northern Alberta Institute of Technology. This is my first summer with AFSC, and I'm an End User Support summer student.
I pursued a summer position with AFSC because I performed well during my studies, and I want to apply what I have learned in the real world. AFSC has a professional IT department, which is perfect for developing my skills. Meanwhile, AFSC offers equal opportunities for all candidates.
IT support is essential for all industries, including agriculture. AFSC helps farmers in Alberta by offering agriculture-related insurance and financial services, an important element of food security. I am proud to contribute and be a part of this sector.
I have learned a lot as a member of the Digital Service operation team. My role requires me to deal with various IT related issues from all departments and branches. I have learned how to arrange my schedule to assist each caller on time and how to use all reliable resources to figure out the solution in an efficient manner. By the end of summer, I hope to be confident and able to work as a full-stack technician, able to offer support from front end to back end.
My experience at AFSC is definitely going to be useful. My colleagues have taught me a lot as a member of the Digital Service operation team. Meanwhile, my supervisor arranged additional opportunities for me to coordinate with the Digital Service foundation team as well. Playing multiple roles will help me gain more experience during my time as an AFSC summer student.
I am enjoying working at AFSC so far. I am proud to be offering IT support to help ensure food security in Canada.
Ashley, Insurance
I am currently enrolled in my fourth year of studies at Olds College. In the fall of 2019, I started my post-secondary education in the Agricultural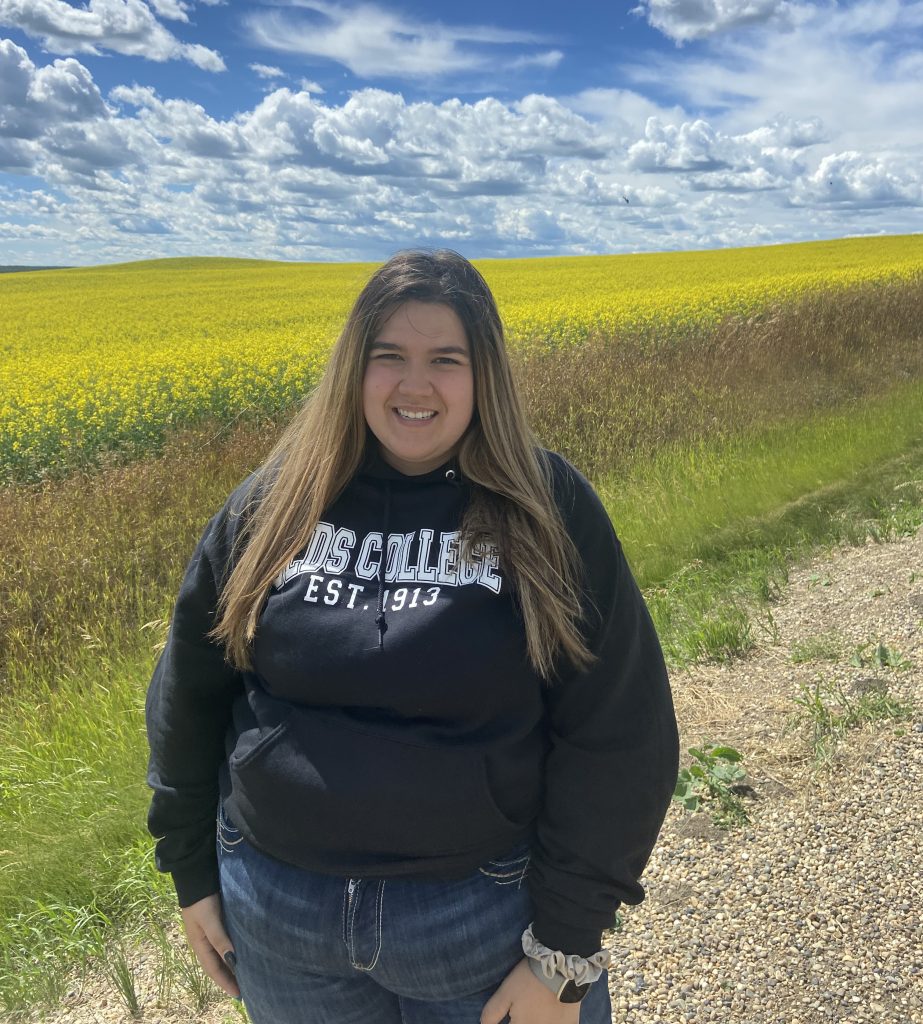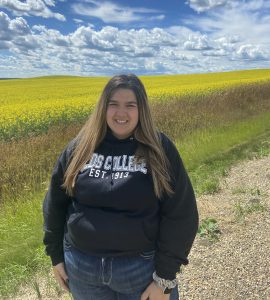 Management Diploma program with an AgriCommerce major, graduating with Distinction honours in the spring in 2021. This past fall, I started my Bachelor of Applied Science majoring in Agribusiness. In May 2022, I finished my third year of in-classroom studies and entered my fourth year of school. My fourth year of schooling is called a directed field study; Olds College developed this program to allow students to enter into the agriculture industry with recent industry experience.
This is my first summer working with AFSC, and it is even more than I ever expected. I am working out of the Grande Prairie Branch Office. When I started with AFSC in May, I was in the insurance summer student role. I was assisting Debbie in the Grande Prairie office, as well as the whole Northwest Insurance Team. Recently, I transitioned into the Adjuster Trainee position for the North region; in this role, I am starting off my training with Billi in Central Peace.
I pursued not only a summer job but career opportunity with AFSC for multiple reasons. With my education, I was looking for a career path that involved my love for agriculture and finance all in one position. I initially applied for a lending summer student position. At the time of my interview, those positions had already been filled, and that is when I decided to go with insurance. Going from the summer student position to Adjusting has allowed me to start to learn the whole process for insurance.
I was familiar with AFSC through my education at Olds College and through my 4-H experience. At Olds College, our Finance Instructor Mark Fournier showed us where to find various information on the AFSC website. We then used that information during different assignments. During our Economics class, our Instructor Brad Dowell showed us how the LPI program worked, and we used the LPI calculator on the AFSC website to help complete our final project. AFSC has been a part of my life because of its support of 4-H. AFSC is a sponsor of 4-H Alberta, and I proudly wore their logo on my back while representing the program.
I have been able to apply so much of my educational knowledge to industry scenarios; this has been one of the most beneficial parts of my education and career so far. I have learned how to create and complete different insurance claims and applications, walk clients through the reporting process, and be a support to everyone from the client to staff members.
My dream is to be involved in agriculture for the rest of my life. At this moment in time, I see my future being with AFSC. I love being able to apply my education to my everyday life. My dream goal is to open an agriculture consulting business and put my agriculture, finance, marketing, and business knowledge into effect.  I want to be a voice for northern producers and help them bring their dreams to life in any way possible
In the little time that I have been with AFSC, the experiences have already been out of this world. The networks I have built with clients and staff members from across the province are remarkable. Learning the background of what work goes into each insurance claim. Every experience I encounter this summer will be helpful in my future career.
Kale, Product Innovation
My name is Kale, and I'm currently enrolled at Olds College, taking ag management. I have just completed my second year and am going back to get my diploma in the ag tech program.
This is my first summer with AFSC, and I'm on the Product Innovation team doing product research. So far, it has been a blast, and it's cool to see all the work that happens at AFSC.
I had an idea what it would be like to work at AFSC before I started because my mom used to work at Alberta Hail and Crop Insurance Corporation before it became AFSC, and my dad has worked with AFSC for crop coverage for years. AFSC definitely plays a part in our family heritage, and I'm proud to be a part of it.
So far, I have learned a lot about research and presenting my findings in a corporate manner. On top of that, I've got an inside look into the direction agriculture is going. My team has given me the opportunity to see the technologies breaking into our world, and in the future, I hope to be designing and implementing these technologies.
AFSC and my team have shown me what happens in and around the insurance side when these technologies are being implemented. Technology is valuable, but I'm learning that without some insurance to help with risk mitigation, it's less likely that these technologies will be implemented and used.
The information and skills I have picked up at AFSC will become even more valuable as I turn my summer job into a career.
Cody, Lending
My name is Cody. I just graduated from Lethbridge College with an Accounting diploma, and I will be attending the University of Lethbridge in the fall to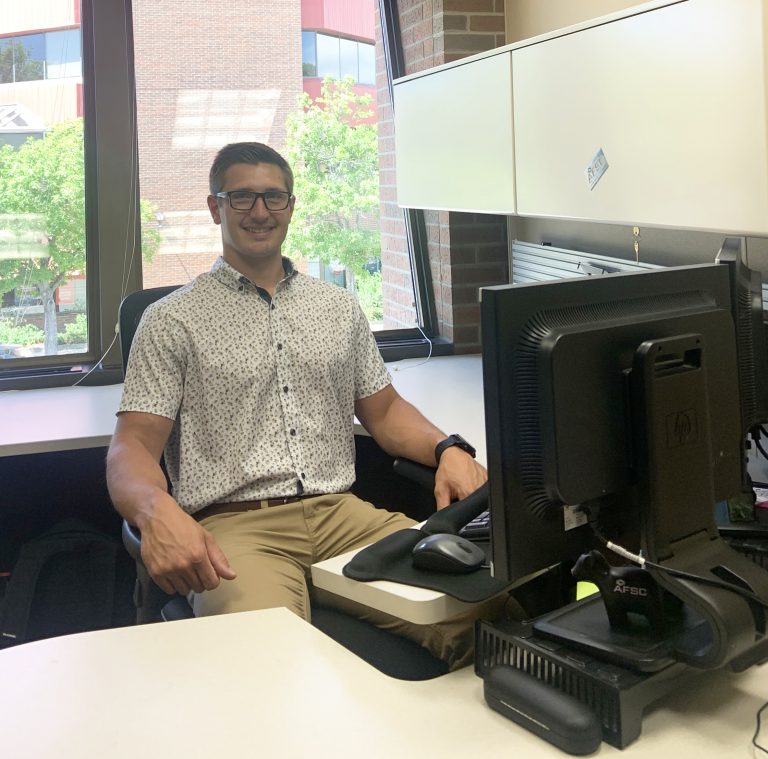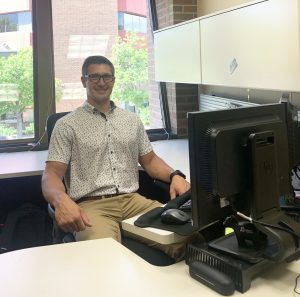 complete a Finance degree. This is my second summer working for AFSC. Last year I worked in Lethbridge as an insurance summer student, mainly working out of the Lethbridge Branch Office, with the occasional trip to Taber to help out with land reports. Now I am a Lending summer student for the Northeast Team, working out of the Lethbridge Branch.
I pursued a job with AFSC because I have an agricultural background and thought I would be a good fit as well as gaining good work experience.
Growing up, I was familiar with AFSC mainly as a provider of crop insurance; as a farm kid we always had crop insurance with AFSC. Over the years, I have had some friends work at AFSC in the summer, and they said it was a great experience.
So far this summer, I have focused on getting familiar with AFSC Connect lending, entering asset and liability sheets, income statements, balance sheets, and getting loan/payout statements. I've learned how to do amendments, periodic reviews, comparable sales, and how to appraise farm buildings with the Douglas cost guide and evaluate equipment using the iron guide. I have been working towards to entering a loan from start to finish. When I finish university, I hope to get a job that is involved with agriculture. I think that the amount of diversity that you get in the ag industry is really cool, and there is always more to learn.
My summers at AFSC have been very educational, and they helped me to decide what paths to focus on in school. My experiences here have given me insight into what it is like to work at a financial institution. The lenders at AFSC have given me great career advice that I will keep in mind for the future.