AFSC recognizes Indigenous History Month and National Indigenous Peoples Day
June is Indigenous History Month, which reminds us of the importance of learning about the true history of this land and about the experiences of Métis, First Nations, and Inuit people.  
Earlier this month Agriculture Financial Services hosted a Land Acknowledgement and Indigenous Artwork Unveiling event at our head office in Lacombe.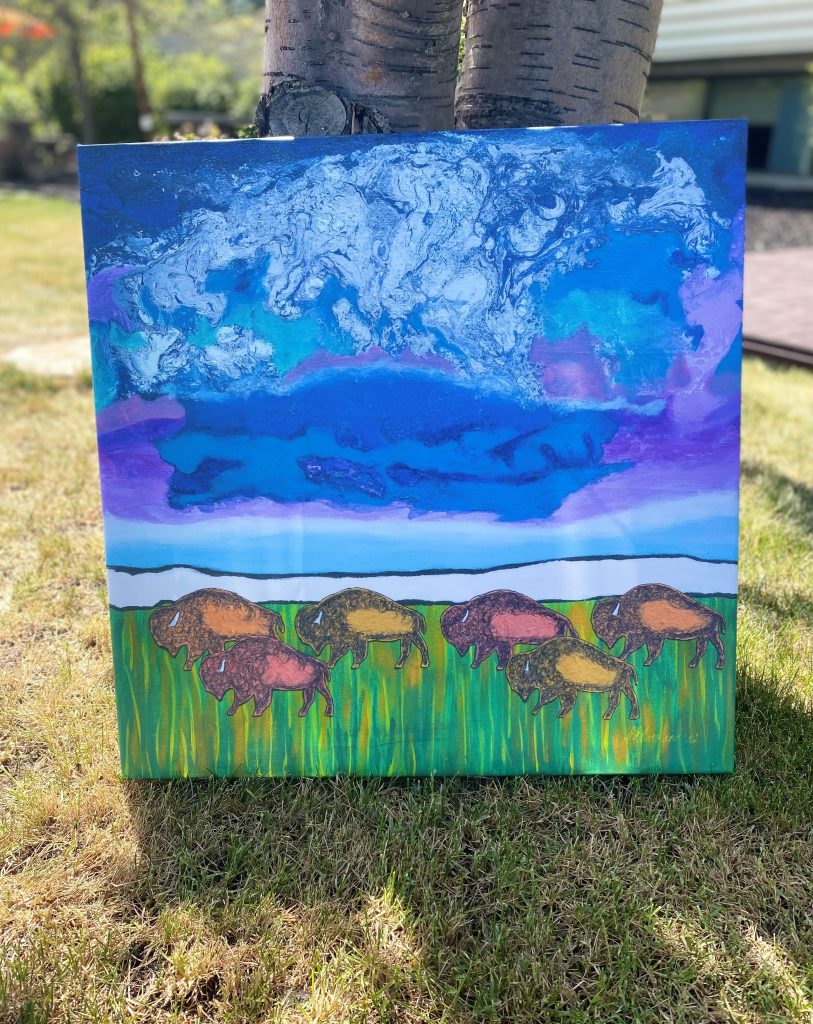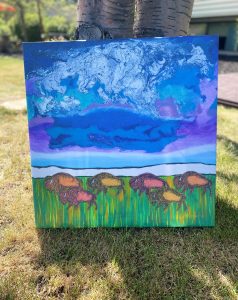 AFSC team member Michelle Schuman, who is Métis and a legal assistant in our Camrose office, brought forward the idea for land acknowledgements and learning about issues impacting Indigenous Peoples. She recognized Indigenous relations and reconciliation work is an area where AFSC needed to improve.
At each AFSC location, you will find artwork by an Indigenous artist from that traditional territory to ensure the artwork on display aligns with the land. Each piece of artwork is eye-catching to spark conversations and draw people in to learn about the land where they are located. We also hope this artwork and accompanying land acknowledgment plaques provide a more welcoming space for Indigenous team members and clients.  
We want AFSC to be a leader in diversity, equity, and inclusion and to build welcoming and fair spaces. We are striving to include all our team members in that process and have created a strategy where all team members can be involved in improving AFSC.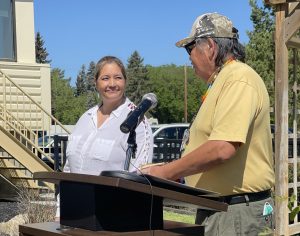 We were honoured to have Pat Buffalo of Samson Cree First Nation join us at the event and share his wisdom about building bridges: 
---
"In making changes there has to be a willingness, not just saying the right things at the right time. It's all about building relationships – let's mean it. Let's come from the heart. Open your doors. Let's truly build relationships."
-Pat Buffalo of Samson Cree First Nation
---
Jolene Fellhauer who works at our Westlock Branch Office is Secwepemc and Cree on her mother's side and Cherokee on her father's side. Jolene shared her perspective:
---
"For a group of People who have lost so much these land acknowledgements are a start to recognizing that we were the first inhabitants and caretakers of these lands. I am hopeful that by having these Indigenous art pieces and land acknowledgements in our branch offices we invite reflection. I hope that for the Indigenous People that come into our offices, that they see they are recognized and included and valued in a space when not so long ago they were not."
-Jolene Fellhauer, Westlock Branch Office
---
With our diversity, equity, and inclusion strategy, we are working to make AFSC a more welcoming space where we can all be ourselves and where we recognize and honour diverse backgrounds. 
---
"We recognize the land that we are on and share our appreciation for the Indigenous Peoples who are the original caretakers of this land. This is a first but important step in building better relationships, and we acknowledge that we have more to do."
– Darryl Kay, AFSC CEO 
---
Hiy-Hiy Michelle, Pat, and Jolene for helping AFSC to understand that we have more work to do in building bridges with Indigenous Peoples.  
Indigenous Artists featured in AFSC branch offices
Treaty Six: Dawn Marie Marchand, Métis and Cree from Cold Lake First Nations
Alex Janvier, Denesuline from Cold Lake First Nations
Treaty Seven: Kalum Teke Dan, Blackfoot from Kainai Nation
Treaty Eight: Christiana Latham, Dene, Dinjii Zhuh (Gwich'in)