AFSC insurance products an integral component in Neubauer Farm operation
"We have the most volatile business partner anyone could ever have and that is Mother Nature; she is incredibly unpredictable and can have a devastating or fantastic influence on our bottom line," said Nichole Neubauer, who runs a mixed farm operation with her husband Mark southwest of Medicine Hat.
Mark is the great grandson of Philip, who homesteaded in Irvine back in 1910 and Neubauer Farms has grown quite a bit since then in size and diversity.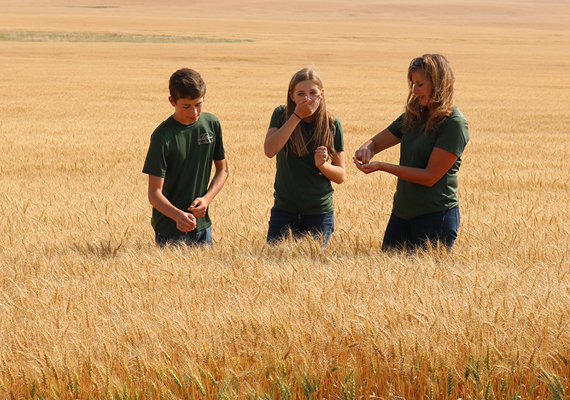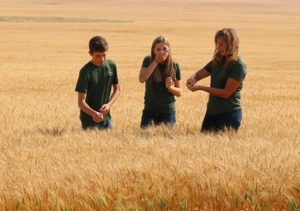 Currently the Neubauers farm on both dry and irrigated land, and grow a range of crops from wheat to field peas, barley to red lentils and run a cattle herd of 40 to 45 head.
Nichole explains that they approach agriculture not only as their means of livelihood, but also as their responsibility to grow and provide food to an increasingly urban population whose awareness on the source of their food is in rapid decline.
"Every single day we face a set of challenges and circumstances that can make you question why you do what you do, but on that same day you will witness a miracle of life," said Nichole, describing the both challenging and rewarding nature of working in agriculture.
"It is my passionate belief that one of the most important jobs we have as producers is to advocate for our industry, to share our story, to fill in the blanks."
The story of any farmer is full of instances of ups and downs: bumper crop one year, snowed under acres the next. And Nichole's story is no different.
"We had canola on 325 acres, we had very good rains that year, we were very optimistic about the production that year. As luck would have it, as the crop was being swathed, when it was half swathed, we had a freak thunderstorm pop up out of nowhere, with copious amounts of pea- to marble-sized hail, which basically took out the crop. At some points we had as much as 100 per cent loss, we had up to 80 per cent loss right in the swath. So even the crop was swathed, it wasn't immune.
"At that point, we were so sad because there was so much untapped potential in that crop. But then our minds shifted quickly to where that put us financially.
"Of course, a claim was made with AFSC, the adjuster came out and as a result we were able to live to see another day, we were still able to continue to farm; because even though we couldn't put that crop in the bin that year, the expenses were covered and we were looked after very well through AFSC."
That is one of the experiences Nichole remembers as showing the vital necessity of having insurance when doing business in partnership with Mother Nature.
And it is not only for cash crops that insurance protection is necessary.
Referring to the dry summer, which lowered forage yields in most of the province this year, Nichole says she at least has some comfort that the satellite yield insurance will help them keep their herd, which in a tough year could force them to sell.
"Anyone who is in the business of raising cattle understands that it takes years and years even in a commercial herd to buy the genetics, and the breeding, and the temperaments and ultimately the moms that put best calves together for the fall. It takes years to develop a quality herd.
"So if in one dry year you are forced to sell cows because you didn't have feed for them, that would be quite devastating for our business plan for sure. The satellite coverage will probably play a role again this year and will take some pressure off."
All in all, the Neubauer family is operating their farm with a relatively stronger sense of feeling protected thanks to their preparedness through their insurance subscriptions.
"Certainly, AFSC products offered to us are an integral part of our farming operation," Nichole said.
"What AFSC insurance does is it allows us to sleep at night and it allows us to be the very best farmers we can be."
But there is more than just the financial security that comes with insurance.
"One of the things we really appreciate is that our AFSC representatives have made themselves available on our schedule, so that we could meet and fully understand the risks and benefits and consequences of insurance options out there," she added.
"With them being local and understanding the challenges we face in our area, we don't have to spend lots of time to explain our point of view and where we are coming from.
"It is great to have that personable line of communication, … nothing beats talking face to face with someone."