AFSC announces new loan programs to help further growth in Alberta economy
Moneca Ackney is a lending specialist at AFSC's Rocky View Branch Office. She is extremely excited these days. The reason is the new set of lending programs that will allow her to support more of her clients' needs in their efforts to start or grow their business operations.
"The Next Generation Loan Program gives my clients greater opportunity to afford new farm assets and flexibility in repayment terms," she said in reference to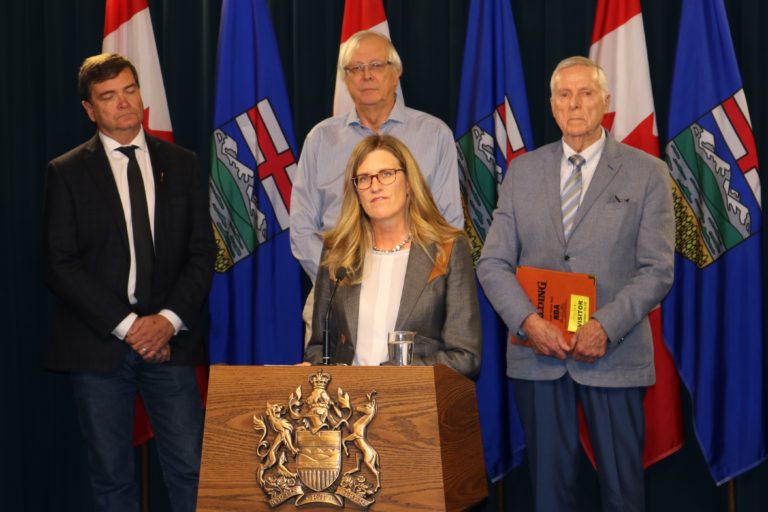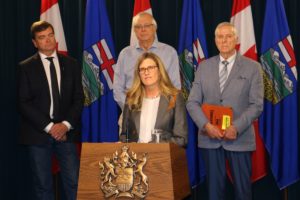 one of the new programs under AFSC's new lending mandate, approved in January this year by the Ministry of Agriculture and Forestry.
The mandate sets out a new direction and priorities for AFSC's lending programs, focusing primarily on young and new producers alongside those who are aiming to expand their operations, in addition to agribusinesses, including agri-food processors.
Alongside the new target groups, AFSC will also continue to provide access to capital for established producers and rural commercial businesses that support agriculture in Alberta and rural communities.
Following the development of the new suite of loan programs targeting each priority identified in the mandate, the new lending programs were rolled out by the Minister of Agriculture and Forestry Oneil Carlier at a press conference in Edmonton on Wednesday, October 10.
"The role of AFSC in a long-lasting economic recovery is crucial to our plan," Carlier said.
"Increasing the lending limit to assist agriculture producers, agribusinesses and food processors expand their operations is another important step towards economic growth, diversification and job creation."
The Minister was referring to one of the key novelties of the suite of lending programs which increased the lending limit from $5 million to $15 million per applicant. That increase in the lending limit ensures that AFSC will able to meet the needs of the evolving market and its stakeholders and support rural economic development.
The Minister's hopeful sentiment at press conference was echoed by AFSC Board Chair Jennifer Wood when she said "Redefining our lending programs and increasing the lending limit allows AFSC to continue to play a crucial role in building a strong, growing and diversified agriculture and agri-food sector in Alberta".
The press conference was also attended by industry representatives who praised the new features of the lending programs.
Bill Smith, senior vice-president and chairman of the board, BioNeutra, a supplier of high quality prebiotic, dietary-fiber and low-caloric sweetener products, touched on the new avenues through which access to funds will be possible for his company.
"This program has opened a wide range of opportunities for BioNeutra to move up, whether it is research we are doing on products to acquiring additional machinery. Better than that the new lending programs encourage more investment from the private sector," he said.
"I am a very strong supporter of AFSC and believe that the new program offers even better opportunities than the previous program," added Jerry Bigam, CEO and president, Kinnikinnick Foods and board member, Alberta Food Processors Association.
"Without AFSC support we would never have become one of the largest food processors in Alberta."
AFSC's new suite of loan programs will continue to offer flexible repayment schedules, long-term fixed rate financing, competitive interest rates and no prepayment penalties, among other features.
The components of the new loan programs are as follows:
The Next Generation Loan Program provides new entrants and young agricultural producers with a consistent source of fixed-rate term loans to establish their own farming operation. Eligible Borrowers under the age of 40 years old may also qualify for the Young Producer Incentive which allows for a one per cent reduction of the applicable interest rate for the first five year term of the loan on up to $1,000,000 in borrowings.
The Developing Producer Loan Program provides emerging agricultural producers with a consistent source of fixed-rate loan terms to acquire assets necessary to expand their farming operation.
The Alberta Producer Loan Program provides producers with an alternative source of fixed-rate term loans to acquire assets necessary to maintain and grow their farming operation.
The Revolving Loan Program provides easy, convenient and immediate access to working capital when required for individuals and companies involved in primary agriculture in Alberta.
The Agribusiness Loan Program provides Alberta's food processors, agri-businesses, agricultural suppliers, manufacturers and rural utilities with a consistent source of fixed-rate term loans.
The Rural Business Loan Program provides Alberta's small and medium-sized commercial and manufacturing businesses in rural Alberta with an alternative source of fixed-rate term loans.