AFSC supports Ag for Life's effort to raise awareness on food and agriculture
As the average age of Canadian farmer continues to get higher and the issue of food security grows more important due to global phenomena like environmental degradation, climate change and continuous growth of population, the awareness of how agriculture makes life possible gains a heightened urgency, particularly among the increasingly urban population.
Alberta has the highest number of cattle in Canada and the province is also a leading exporter of wheat, canola and pulses. With such concentration of agriculture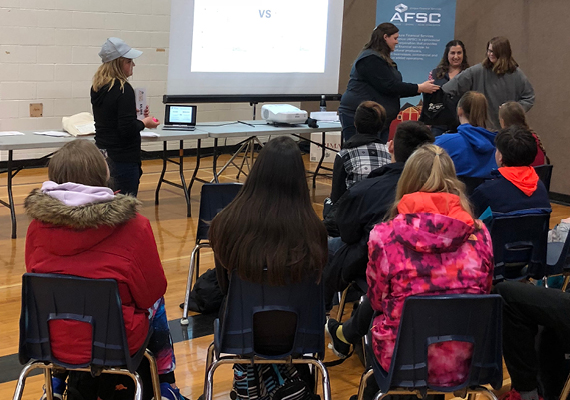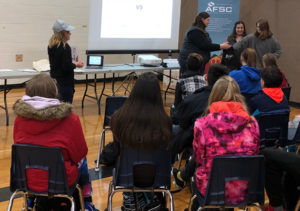 in the make-up of provincial economy, it is no surprise that Agriculture for Life (Ag for Life) has sprung into life in Alberta. It is a charity with a mandate to deliver educational programming designed to improve rural and farm safety while building public understanding around the agricultural industry.
"Ag for Life was formed in 2011, with the initial framework of providing funding for existing programs. The organization has since evolved to include the development and delivery of Ag for Life programs across Alberta," said Luree Williamson, Ag for Life CEO.
Among the founding members are AdFarm, ATCO Group, Glacier FarmMedia, Nutrien Ltd., Rocky Mountain Equipment, TransCanada Corporation, and UFA Co-operative Limited. The organization has also been supported by a broad coalition of individuals and organizations, including Agriculture Financial Services Corporation (AFSC). Organizations supporting Ag for Life are believed to be employing 20,000 employees in more than 350 communities in Alberta, an indication of the broad outreach of the campaign.
"Our wide-ranging programs are supported and informed by a strong network of partners across government, educational institutions and industry" added Williamson.
"We work hard to ensure the content of our education programs and the presentation of those programs is undertaken in the most compelling, effective and impactful manner possible in order to increase learning outcomes."
Educational programming undertaken by the organization seems to have already been making a major impact.
"Ag for Life has a proven track record of effectively delivering educational programming to youth and teachers across rural and urban Alberta, currently reaching over 70,000 students from elementary to high school each year," stated Williamson.
"Based on feedback from teachers, students and industry, our programs are perceived as highly effective and engaging."
Appreciation for the awareness effort has been coming from all quarters. Joanne Kaliel, an Alberta producer praised the organization for "doing an outstanding job of promoting agriculture", while a publication of Alberta Teachers' Association described an educational event organized by Ag for Life as "well worth coming to".
Williamson believes AFSC's support to the development and delivery of Ag for Life programs is crucial. "Beyond the funding, AFSC supports our programs through volunteers at our Agriculture 101 and See Yourself in Agriculture programs. This participation is highly beneficial for students to learn directly from experts in the industry."
Janine Wahl, insurance product specialist at AFSC's Strathmore Branch Office, was one of those volunteers who took on the task of telling high school students how insurance works in crop production.
She gave the following account of her participation in the effort:
"While we often work to demonstrate the physical steps it takes food to get from farm to plate, showing the underlying economic and financial complexities is a vital message to be shared. Our goal was to actively engage and educate youth on how much financial risk is involved in a farming operation.
"Our first presentation with Ag for Life was a station at Robert Thirsk High School in 2016. We were tasked with a short presentation, holding the attention of school age kids, while explaining the vital role AFSC plays in the process of food from farm to plate. As the Insurance Product Specialist at the Strathmore AFSC branch, I am responsible for the insurance of over 700,000 acres in the heart of Alberta's hail belt. It was very obvious to me that showing kids how uncontrollable factors such as weather can make or break a farm and that insurance is a vital tool for my clients.
"When we presented, we created an interactive game with the students called 'The Insurance Game'. Two members of the audience pretended they were canola farmers growing the same amount of acres, harvesting the same yield, receiving the same market price for their product. The numbers were based on real market conditions. They started with an amount of money that their crop was worth. Each farmer had the same amount of expenses – with one exception. One farmer chose to insure his crop through insurance at 80 per cent and, of course, had an extra expense of an insurance bill. The other took his chances and decided to see if he could manage the elements on his own.
"Because hail is inevitable in our area, two storms would pass through their farms with each farmer randomly picking a percentage of crop damage. Each percentage had a calculated amount of cash that they had to turn in to represent the amount of loss of the crop due to weather peril. At the end of the game, we would see if the farmers could pay their crop expenses. The farmer that was insured was able to retain his earnings and pay his bills because he managed his risk of loss in income by utilizing crop insurance. The other farmer, who did not have crop insurance, lost significant income and was unable to cover his input costs.
"The end result was effective and demonstrated three important principles in an interactive way and in easy to understand terms. It illustrated the large amounts of cash flow needed to sustain a modern farming operation. It also showed the students how certain circumstances beyond a producer's control can adversely affect a farming operation and can mean the difference between sustainability and ruin. Lastly, it showed how financial risk management tools are a crucial tool to help the farmer maintain that sustainability."
As part of ongoing efforts to educate the public on all aspects of agriculture, Ag for Life recently launched a unique initiative.
"It is a one-of-a-kind Rural Safety Unit, a mobile classroom that travels to schools, communities, fairs and festivals across Alberta to educate, encourage and promote rural and farm safety," Williamson said.
"We built the trailer with the intent of adding additional content through digital, use of video, games and apps, which allows us to expand the number of topics we can bring out to schools and communities each year."
With such dedication to keep agriculture discussion alive, it seems there is quite good reason to be hopeful about the future of farming in Alberta.